Thanks to her hard work in the AFSCME Free College program, WFSE Local 443 member Kaycee Keys was recently promoted to Fiscal Analyst 4 at the Department of Social and Health Services, earning a significant pay raise. 
Keys found her way to this new position through perseverance, a desire to help others, and public service.
After finding herself in difficult times, Keys learned about DSHS employment programming when she visited an office to apply for food stamps.
Keys' caseworker encouraged her to apply to the Employment Pipeline Program. Participants are mentored through applying and interviewing for job openings that match their interests and skills.
Keys was hired to a one-year contract position as an Officer Assistant 1. Public employment was a natural fit, particularly her work supporting staff in the counseling unit. 
"I love working with people and I love helping people. It's my favorite thing," Keys said. 
After being hired to another year-long contract position, Keys was ready to pursue a position that involved more counseling work.
"After talking with a lot of the people there and finding [counseling] piqued my interest, I decided that I wanted to give it a shot," Keys said.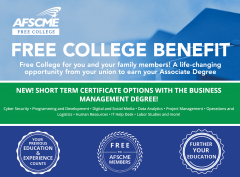 WFSE Secretary Kodi Gaddis told Keys about the AFSCME Free College program, which offers free online pathways to earn or complete associate and bachelor's degrees completion for AFSCME members and family.
"Kodi would regularly ask me if I had applied yet," Keys said.
"I knew I wasn't going to get anywhere else too quickly without any schooling. I decided this is what I wanted to try."
Keys applied to the program and began attending classes in January of 2021.
"I am going for my associate degree for counseling," Keys said. 
She'll soon finish her degree and has already been promoted, earning a significant wage increase.
"In order to be employed for the state of Washington in counseling, the requirement is 18 credits. I acquired those, so our unit was able to promote me," Keys said. 
Keys recently celebrated five years working at DSHS and looks forward to her new role as a fiscal analyst. She'll be authorizing support payments made by field staff to help Ukrainian and Afghan refugees who need help after arriving in Washington.
"I love that I'm helping provide the funding and the resources for our employees to get the assistance that our clients need, like housing, transportation to doctor's offices, clothing, and language classes. It really touches home," Keys said. 
Keys encourages union siblings to explore the ASFCME Free College program, even if they're apprehensive. The program can connect applicants to computer skills if needed, and with some patience and perseverance, it's possible to earn a degree while working. 
"It's been complete life changer," Keys said.
"You never know what it'll open up. Now even a year and a half in, I have had a massive wage increase. I'll be the first person in my family to bring home a degree."
For Keys, union membership is about helping each other out, welcoming new public employees, and excellent resources like AFSCME Free College.
"It's everything that our union can offer," Keys said. 
"It's another awesome tool to have in your tool bag."
Learn more about the AFSCME Free College benefit—and the many other great scholarships, discounts and resources available to members of our union.