WFSE/AFSCME's new Trustmark Universal Life Insurance with Long-Term Care members only benefit is up and running for members in General Government.
Enrollment has been extended! The number to call is 425-827-8397, option 1. NW Benefit Advisors can answer your questions and enroll you in this benefit.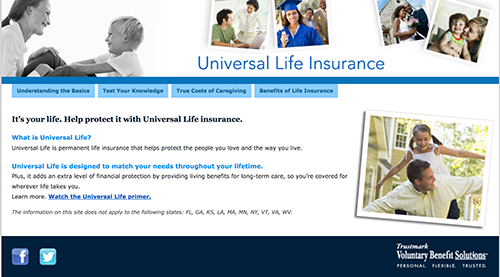 WATCH VIDEO TO LEARN MORE (click image above)
DOWNLOAD FLYER
IMPORTANT NOTE: We're working with state colleges and universities to authorize payroll deductions so our Higher Education members can take part as well. When those come on line for Higher Education, we'll let you know, as well as for any other payroll deduction approvals for other groups of WFSE/AFSCME members.
Trustmark's Jodi Allen explains the value of this new members only benefit:
More details:
The Trustmark Life Insurance and Long-Term Care Program fills a void not covered by the Public Employees Benefits Board.
The PEBB no longer offers a long-term care benefit. And the Trustmark life insurance portion would go with you after you leave state service.
This new WFSE/AFSCME benefit was vetted and approved by the union's Members Only Benefits Committee. Trustmark has provided this benefit in partnership with several other unions over the years, including AFSCME Council 13 in Pennsylvania and SEIU Local 721 in Los Angeles.
We've arranged a special "open enrollment" period for the Trustmark Universal Life Insurance plan, which includes a Long Term Care benefit.
This one program features:
• Long Term Care/ Home Health-care Benefit
• Universal Life Insurance with Cash Value
• Portable – you take your coverage and pay the same premium if you change jobs or retire
• Apply for Coverage for Family Members
These benefits are unique and not offered through PEBB.
PEBB's benefits have different features:
Life Insurance:  offered through the state is only portable to age 70.  If the State changes carriers, then an employee is not able to continue coverage.  After 70, an employee can convert the coverage – but rates will be higher and the employee may not be able to convert because of current medical conditions. There are no guarantees.
Long Term Care: was discontinued as a benefit for state employees about four years ago.  It is an extremely expensive product to obtain for our members and is unaffordable for most people.
This New Member Benefit open enrollment started Oct. 13 and runs until Dec. 15. The special open enrollment allows for only a few health questions to be asked in the application process. Once you enroll, your premiums are paid through payroll deduction.
The special enrollment period is open for only a limited time, so please give it serious consideration. The minimum cost is only $3 per week.
DOWNLOAD FLYER for more information.