Congratulations to Ashley Fueston and Jason Molzahn, the winners of this year's WFSE Steward Awards.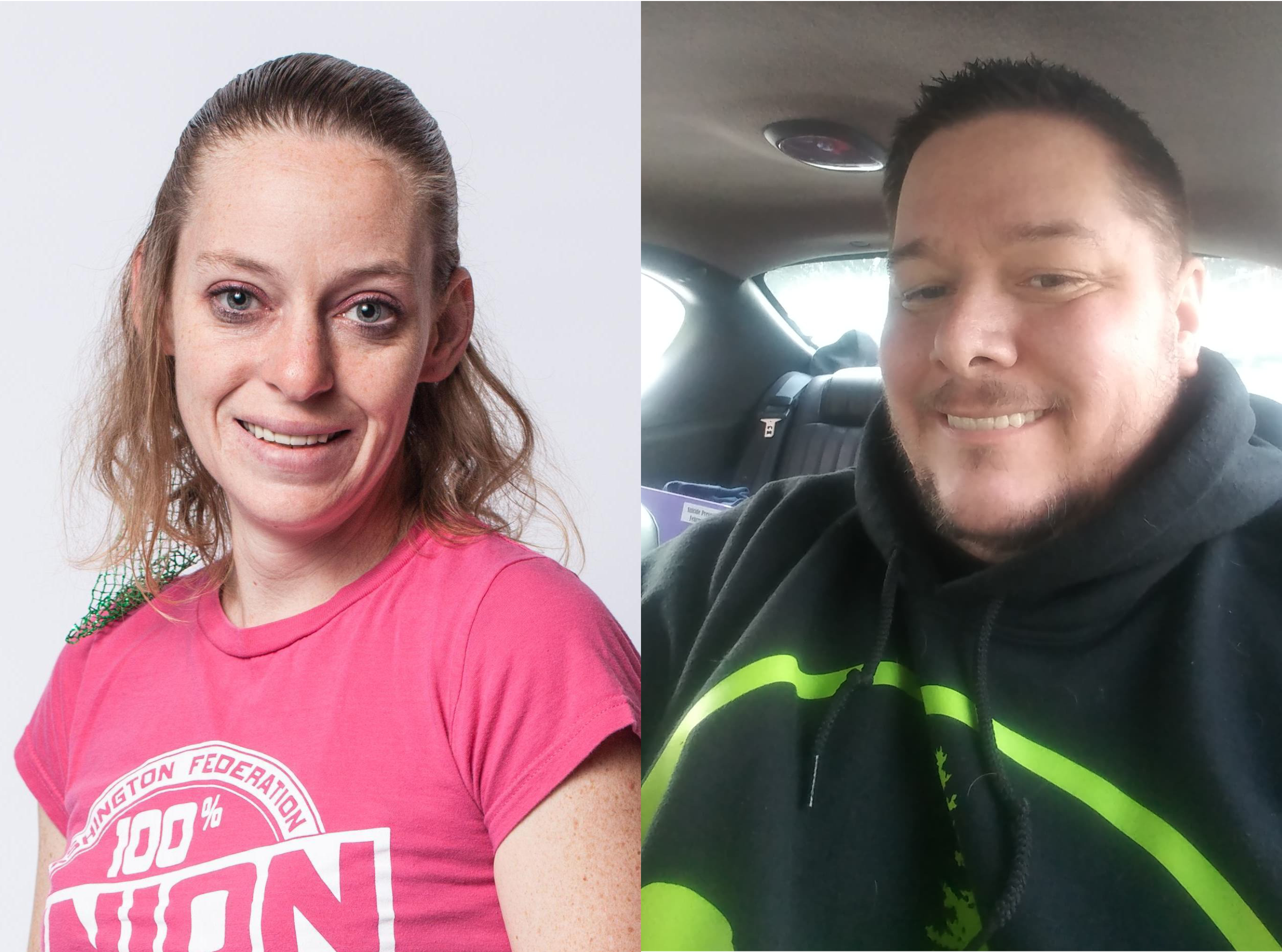 "Every day, WFSE stewards are rising to the challenge, going above and beyond the call of duty to assure the safety and well-being of our members," said AFSCME Council 28/WFSE President Mike Yestramski at the 2020 award ceremony on Zoom.
"I could not be more proud of the work you do every day," Yestramksi said. "On behalf of our entire union, I thank you for your service." 
Ashley Fueston Awarded 2020 Laurie Merta Steward of the Year
Ashley Fueston's fierce dedication to her fellow union members won her this year's Laurie Merta Steward of the Year Award. Fueston is a Worksource Specialist 4 at the Employment Security Department (ESD), Secretary and Second Vice President of WFSE Local 443, and chairs the WFSE ESD Policy Committee.
Fueston welcomes new WFSE siblings into our union at New Employee Orientations (NEOs), stands up for her coworkers in representation cases, and has traveled extensively as a Volunteer Member Organizer, bringing hope and support to public employees in Nevada, Virginia, Maryland, and Washington, D.C.
When scammers flooded ESD with fraudulent unemployment claims during the pandemic, Fueston helped her coworkers cope, making sure they didn't remain "locked out" of their work accounts—even on her time off.
Because she understands how critical political action is for public employees, Fueston also finds time to join other WFSE members for lobby days. She emails and calls her legislators and signs up new PEOPLE members whenever she can. Thank you, Ashley, for all your hard work! 
Jason Molzahn Wins 2020 WFSE Steward Rising Star Award
Jason Molzahn works at Rainier School as an Attendant Counselor 1 and is a member of WFSE Local 491. He also serves on the WFSE Executive Board and the WSFE Institutions Policy Committee, as well as on WFSE's statewide bargaining team and the UMCC team.
Known for his compelling NEO presentations, Molzahn has a jaw-dropping sign-up rate of over 98% with new employees—work he does on his own time. He also advocates skillfully for his coworkers and regularly wins informal resolutions before issues become grievances.
Molzahn is an avid PEOPLE member and knows how crucial having a political voice is for public employees. He has played an important role in advocating for Rainier School to remain open and fully funded so that the residents he works with continue to receive innovative and supportive care. Thank you for your service, Jason! 
Stewards are the heart of our union. No one knows the issues public employees face in each agency and worksite in Washington better than their coworkers. The expertise, dedication, courage, and leadership of WFSE stewards shows us what solidarity can do.
Not a member? Join today. Interested in becoming a steward? Contact the Member Connection Center (MCC) at [email protected] or 833-MCC-WFSE (1-833-622-9373).