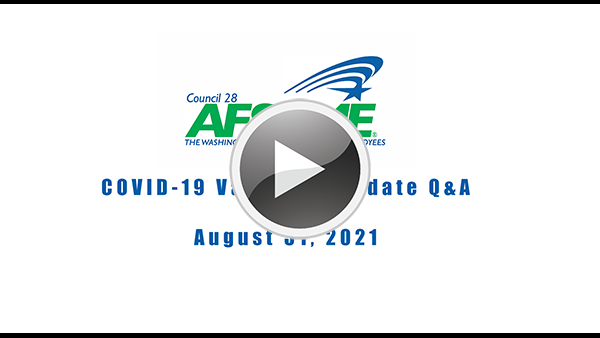 We will continue to provide updates as we learn more about the vaccine mandate along with answers to common questions and concerns.
To ensure safety for state employees and the public they serve, Governor Inslee announced a COVID-19 vaccination mandate for all state agency employees and many private sector health care employees. Employees must be vaccinated by October 18. Click here to read the governor's full proclamation. View the governor's office FAQ here.
Did WFSE sue to block the vaccine mandate?
No. WFSE filed a lawsuit in response to the state's failure to bargain the impacts of the mandate in good faith at the General Government bargaining table. Since filing the lawsuit, the state has finally provided counterproposals. WFSE's goal is to address concerns about exemption requests, timelines, leave time, staffing concerns and more. Members will receive updates in the personal email as this situation develops.  If you're not receiving emails, update your contact information here. WFSE encourages members to talk to their physicians about getting a COVID-19 vaccination. Medical experts around the world agree that returning to normal and beating this pandemic will require a combination of vaccinations, masking and social distancing. 
Am I impacted by this mandate?
All employees working under a state agency, as well as workers in healthcare settings, are subject to the mandate. Some private sector employers, such as ABHS, may have earlier cutoff dates for vaccination.
"Public and Private Entities and Employers May Exceed These Requirements: Nothing in this order prohibits individuals or entities employing or using the services of Health Care Providers and State Agencies from implementing requirements that exceed the requirements of this Order."
"'State Agency' includes:
• Every agency listed at https://www.governor.wa.gov/office-governor/office/executive-cabinet;
• Every agency listed at https://www.governor.wa.gov/office-governor/office/small-cabinet; and
• Every agency under the authority of a board, council, or commission listed at https://ofm.wa.gov/sites/default/files/public/publications/2021_State_Org_Chart.pdf except the State Board for Community and Technical Colleges"
Download the governor's full proclamation here.
Is the vaccine mandate tied to an across-the-board raise?
No. WFSE members will bargain the impacts of the vaccine mandate separately from the upcoming wage reopener. These are separate developments. The governor's agreement to bargain a general wage increase was announced during the WFSE Executive Board meeting on Saturday, August 7, and the governor's mandate was announced Monday afternoon and HAS NOT BEEN BARGAINED BY YOUR UNION.
Did WFSE bargain this vaccine mandate?
No. This decision was made by the governor's office with advice from scientists and medical experts. While employers have a right to mandate vaccinations, unions have a right to bargain the impacts of the mandate, such as leave time and the process for exemption.
Has the vaccine been authorized by the FDA, and is it safe?
The FDA has provided emergency use authorization for COVID-19 vaccinations and full approval is expected within weeks. WFSE has provided access to a variety of resources and information related to the COVID-19 vaccine, including town halls with expert medical professionals. To learn more about vaccine safety, check out the compiled resources on WFSE's COVID-19 Response Page. The consensus among medical professionals is that COVID-19 vaccines are a safe and effective way to bring the pandemic under control, relieve the strain on medical infrastructure, and return to normal life.
Is there legal precedent for employer vaccine mandates?
Yes, the U.S. Equal Employment Opportunity Commission has stated that it is legal under federal law for employers to require vaccinations with some health and religious exemptions. Furthermore, employers have been requiring vaccinations all the way back to the 1905 Supreme Court Case, Jacobson v. Massachusetts, 197 U.S. 11 (1905).
More employers are beginning to mandate the COVID-19 vaccination as more individuals become infected and health systems become overwhelmed with unvaccinated individuals needing life-saving measures.
Will my union continue to represent me?
Yes, despite varying opinions about the mandate, our union continues to represent our members' rights. While there may be valid concerns around this mandate, members should also beware of an abundance of misinformation spread by those who wish to divide our union and weaken our bargaining power.
How can I request an exemption from the mandate?
According to the proclamation, "employees must show proof of vaccination by October 18, 2021. State employees may work with their agency's human resources office if they need a reasonable accommodation for medical or religious reasons. Private sector employers may choose a different process."

Medical exemptions would be handled through the Reasonable Accommodation process in compliance with the Americans with Disabilities Act (ADA) and with your agency's designated human resource staff. If you have a medical accommodation and find you need help after reaching out to your agency's HR, please contact us and we would be happy to assist you through the process.
Religious exemptions are also expected to be handled through your agency's designated human resource staff. However, it is not handled through ADA, but rather the Equal Employment Opportunity Commission (EEOC) criteria for a legitimate religious exemption. These guidelines are not yet clear and are likely to be part of the bargaining process regarding impacts of this mandate.
Will I lose my job if I don't provide proof of vaccination by Oct. 18?
According to the FAQ provided by Governor Inslee's office, "All employees must be fully vaccinated by October 18, 2021 as a qualification of fitness for continued employment. Employees who refuse will be subject to non-disciplinary dismissal from employment for failing to meet the qualifications of the job. Those employees granted a reasonable accommodation for medical or religious reasons may not be subject to non-disciplinary dismissal. There may be continued or additional safety requirements for employees who are granted accommodations."
The governor's office has indicated their commitment to respecting collective bargaining agreements: "Any post dismissal dispute over a dismissal action would follow any applicable collective bargaining agreement, civil service rules, and/or agency policy and procedure."
Our union has pursued legal options to ensure the state lives up to its obligation to negotiate the impacts of the mandate.
Learn about your grievance procedure here.
How does this mandate impact our union's collective bargaining agreement (contract)?
Although there is established legal precedent for employers to mandate vaccines, labor unions have the right to bargain the impact and implementation of those mandates, e.g., time off for shots and side effects, and the procedure for medical or religious exemption.
Note: Currently, general government agencies must permit employees to take a reasonable amount of leave with pay for the employee to travel and receive each dose of COVID-19 immunization if the vaccine is not offered at the workplace. Leave in excess of one day may be authorized in extraordinary circumstances, such as to accommodate travel where the vaccine is unavailable locally. The employer may require that the request for leave be supported by documentation, which may include proof of the vaccination. This policy guidance is effective until the expiration of proclamation 20-05, issued February 29, 2020, by the Governor and declaring an emergency in the state of Washington, or any amendment thereto, whichever is later.
Contact information is required to ensure only bargaining unit employees complete this survey. Aggregate data (not individual identities) may be shared during negotiations as we bargain the impacts of the mandate.
We will keep you informed with updates as they arise. If you have any questions, please contact your shop steward or the Member Connection Center at [email protected] or call 833-MCC-WFSE.