The information below is for state agencies under the General Government contract. (For all other contracts, click here.)
For information on bargaining 2023-25 contracts, check the Bargaining Updates page.

----
Raises Coming In July, 2022
In addition to the raises highlighted below, WFSE has negotiated a memorandum of understanding (MoU) that will bring more pay increases to targeted job classifications. A ratification vote is currently under way. Click here for details on these additional job class raises set to appear on July 25 paychecks if ratified by the membership.
_____
The pay increase scheduled for 7/1/22 in the General Government agreement will bring the largest pay increase and lump sum payment negotiated in several years. A special thank you goes out to the bargaining team and WFSE members who took action to help secure this agreement. 
What We Secured
This agreement addresses the lack of a general wage increase in 2021 and acknowledges the impacts on those who adjusted to telework, those on the frontlines, and lower wage earners who were most impacted by the COVID-19 pandemic.
A general wage increase of 3.25% for all employees who fall under WFSE's General Government contract
A lump sum payment (determined by base income as of June 30, 2022) for workers employed as of July 1, 2021, who remain employed as of July 1, 2022, and earn less than $99,000

Do I get the lump sum payment if I work part time? Yes, If you were employed part time as of July 1, 2021 and remain employed as of July 1, 2022 , the amount for the lump sum payment will be proportionate to the number of hours you were in pay status during fiscal year 2022 in proportion to that required for full-time employment.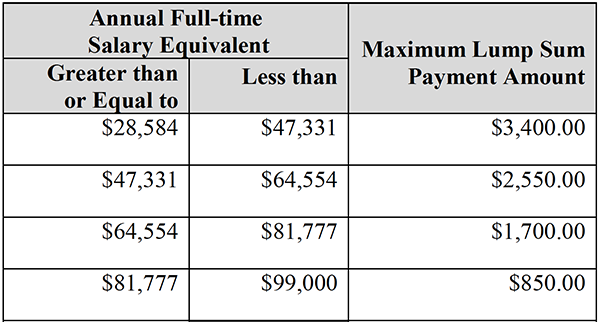 Job-Class-Specific Pay Increases
During the 2022 Legislative Session, our union lobbied hard for job-class-specific raises to address pay inequities between different job classifications, specifically those requiring work on the frontlines of the pandemic. 
That lobbying paid off. The Legislature set aside $84 million for much-needed job-class-specific pay increases.
These class-specific raises are in addition to the 3.25% raise and lump-sum payments and will also go into effect July 1, 2022 and be reflected on the July 25 paycheck. 
WFSE members voted overwhelmingly in support of additional increases for targeted job classifications. (96% voted yes!) See impacted positions.
How We Did It - The 
Union

 Difference
Union members here in Washington and across the country lobbied Congress to ensure passage of the 

American Recovery Act

, providing critical funding for state and local governments.
WFSE members sent more than 6,000 letters to the Inslee administration calling for wage increases.
A special thanks goes out to members and staff on the bargaining team who worked tirelessly to negotiate this agreement.