Don't  know your AFSCME membership number or can't find your card? There's two ways to get your card number:
1. CALL the WFSE Member Connection Center at 833-622-9373 M-F 8am-6pm PT
The MCC Rep can retrieve your number from our data system.
2. Contact AFSCME Members Services at 855-AFSCME1 (855-237-2631) 10am-6pm ET.
After verifying your identity, they can also retrieve your card# and send you a paper card. It takes about 2 weeks for your new card to arrive.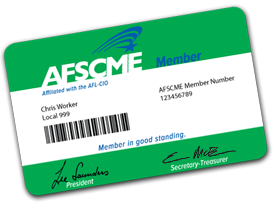 If you are not a member of WFSE/AFSCME Council 28 and would like to join, click here.