In a coordinated effort, over 400 Western State Hospital and Eastern State Hospital employees signed petitions demanding safe working conditions and fair compensation. Both petitions were delivered to management over the last week.
The workers at both hospitals are calling for:
Increased compensation and sign-on bonuses to improve rectruitment and retention and achieve safe staffing levels
Improved COVID-19 safety measures and paid leave for COVID-19 quarantine and isolation
Training opportunities to improve safety
Assign floor shifts to all staff with licenses, including management, until conditions significantly improve
An end to false promises and to actually implement call-back pay 
And more
Riki Camacho
Psychology Associate
Western State Hospital
WFSE Local 793 Member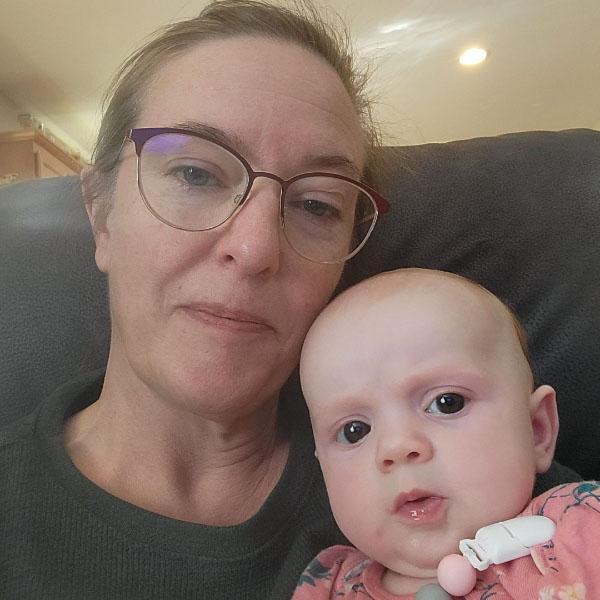 "The lack of compensation drives down morale! Without morale we can't serve our patients the way that they need. People are getting burned out because they have to do so much overtime and they don't feel valued by our employer.
If we are fully staffed, we could do more than meet our patients' basic needs. We could provide more support, better therapies, and we could potentially prevent some of the injuries that our patients suffer."
Nicole Collins
Psychiatric Security Attendant
Eastern State Hospital
WFSE Local 782 Member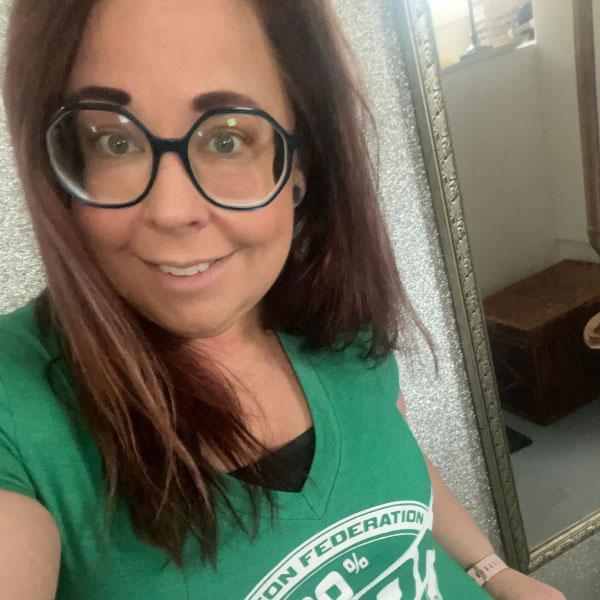 "I'm working twice as hard with half the staff I'm used to as a direct patient caregiver. We currently cannot sustain on evening shift and day shift pulling extra shifts to cover the night time. Staff do not feel safe. Staff are retiring and quitting for better, safer work conditions and better pay. If we had adequate staffing, staff and the community would be safer.
Here is a fact: The patients study the staff. They can count when there are three staff on a ward with 31 patients. We are all worried about the violence we are here to protect the public from."
Petition Delivery
The Eastern State Hospital petition with 204 signatures was delivered to Chief Operating Officer Mary Jo Currey on Thursday, April 7 in person.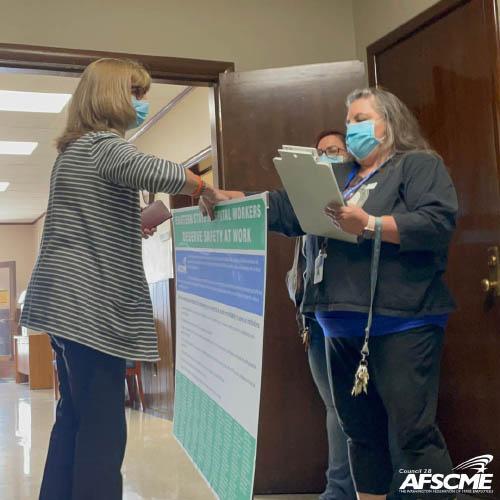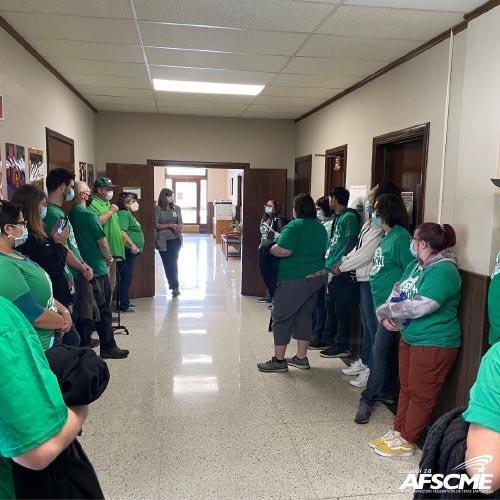 The Western State Hospital Petition with 210 signatures was delivered to Western State Hospital CEOs Charles Southerland and Mark Thompson on April 14 via email.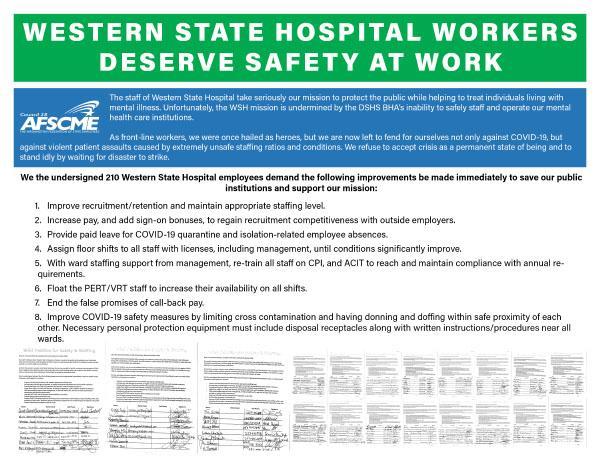 Stay tuned for more information as this is a developing story. 
Want to take actions like this at your workplace?
Become a WFSE member or get involved in your Member Action Team.